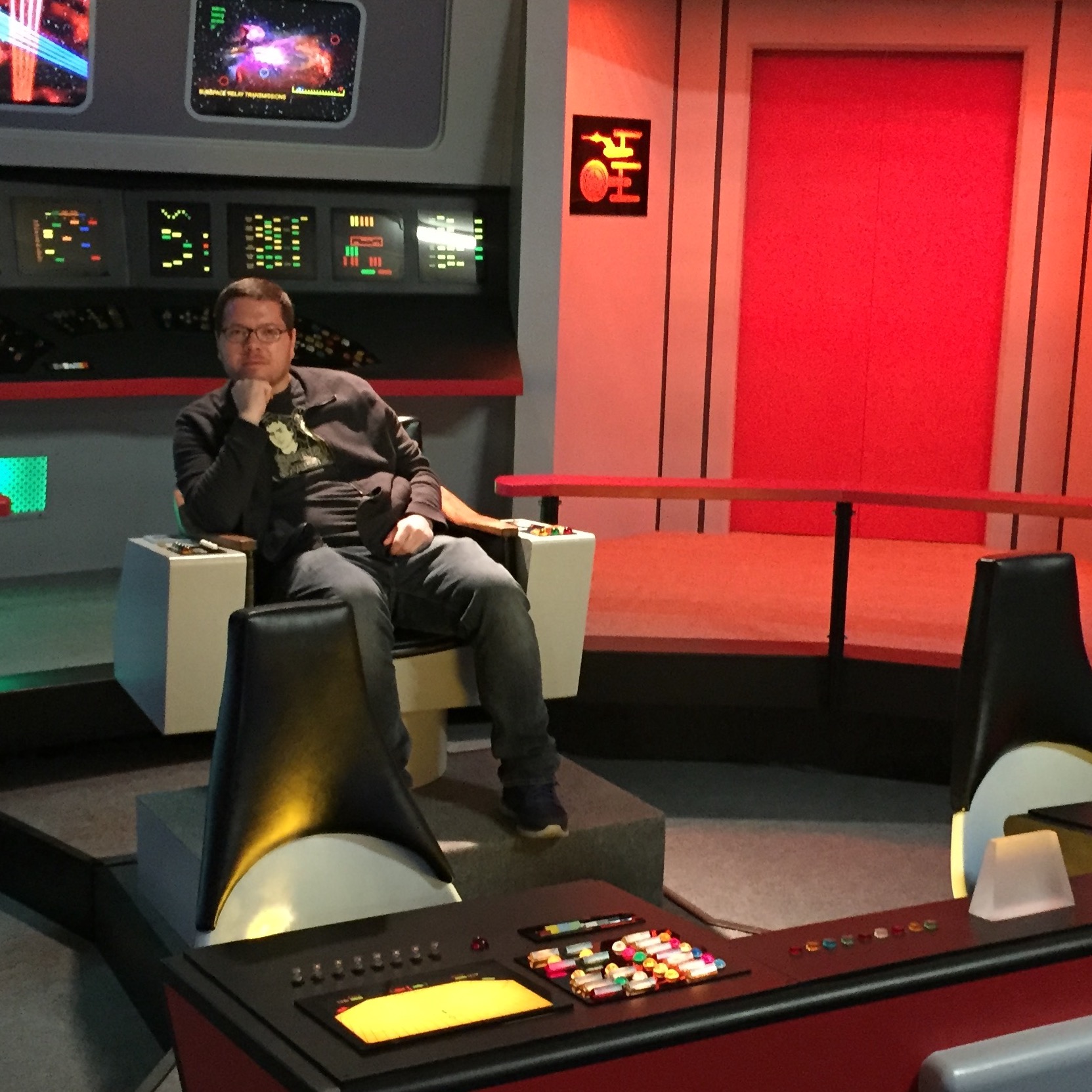 Hi. I'm Kevin. I do stuff on the web. Design, development, both? Yes, both.
Check out Kevin's Resume.
What's this? It looks like a script. Or maybe just a cry for help.
INT. BRIDGE, THE STARSHIP ENTERPRISE
KEVIN sits in the Captain's chair. He looks up at the camera, with an impudent twinkle in his eye.
KEVIN
They say where we're going, we don't need roads…
LT. COMMANDER DATA enters the frame.
DATA
Excuse me sir, but that is from the wrong science fiction franchise. Should you not have said something about how web development is the "Final Frontier"?
KEVIN
Hello Data. You're just as annoying as ever. I was trying to be funny. And that's something you never learned how to do.
DATA
You are correct. Although, you are quite funny.
KEVIN
Oh, Data, stop.
DATA
No, I really must tell the reader about all of your wonderful qualities.
KEVIN
If you must.
DATA
You are the one writing this.
KEVIN
Get on with it.
DATA
Kevin Paul McGuire, born in the late 20th century, was an enigma. Not much is known about him aside from his impeccable taste in music and movies.
KEVIN
Why don't you tell them about my favorite movie?
DATA
It is called Primer. Directed by Shane Carruth, it was a laughably inaccurate film that depicts a fictionalized version of time travel that allows the protagonists to lounge around in hotel rooms and gamble with something called "the stock market". It seems like something the Ferengi would do.
KEVIN
I think you're missing the point. Well, why don't you tell them about my exquisite taste in music?
DATA
I myself play the oboe.
KEVIN
Is that so. What about my taste in music?
DATA
Not much is known about Mr. McGuire's taste in music, aside from his recovered audioscrobbles from the extinct internet service last dot fm.
KEVIN
I haven't used that for years.
DATA
It seems the Faint's album "Danse Macabre" was listened to quite often.
KEVIN
No it wasn't! I mean, that's from 15 years ago! I listen to other stuff now.
DATA
Such as?
KEVIN
I really like the Breeders.
DATA
Kim Deal is a very good songwriter.
KEVIN
Sure is. I also really like Guided By Voices.
DATA
You must like some music that is not from Dayton, Ohio.
KEVIN
Not really.
DATA
I know that I said not much is known about you except for your taste in music and movies, but the author of this terrible script, you, has already forgotten about that, so I am going to tell you about Kevin's other interests.
KEVIN
Sure.
DATA
Kevin also enjoys looking at typefaces in all kinds of media and attempting to identify them. This is something I do quite easily with my ocular perceptors and positronic brain. Kevin can usually only manage to identify a typeface correctly 92.275% of the time. Laughable.
KEVIN
I also like websites.
DATA
What is a "web sight"?
KEVIN
It's like a… thing that you look at… in a firefox window.
DATA
As a being from the 24th century, that sentence is complete nonsense to me.
KEVIN
Documents and applications for displaying data and performing tasks?
DATA
Something like our LCARS system.
KEVIN
Yes, quite like that.
DATA
Do you create these "web sights"?
KEVIN
Yes, I do.
DATA
That is such a primitive term.
KEVIN
I don't disagree.
DATA
Well, according to the log file, Kevin started making "web sights" back in 1996, when he first got online and made a Dune fanpage. It seems like it was just audio clips from the Dune Soundtrack CD he purchased.
KEVIN
It was much more than that! It also had a couple of cool Sandworm drawings.
DATA
And from that point forward, he made web pages for fun and for a living. Sometime around CE 2013, he was employed at a place where, instead of pages, they made user interfaces.
KEVIN
I feel I have a real gift for that.
DATA
I concur. You have long desired to work crafting user interfaces.
KEVIN
I enjoy it. Anything else in that data bank of yours?
DATA
You have watched the entirety of Star Trek: The Next Generation.
KEVIN
So, what, did you get a hold of Netflix log files, too?
DATA
Yes, you have also watched every episode of Frasier.
KEVIN
That's right.
DATA
You know, I was on an episode of that.
KEVIN
Wait, you, or Brent Spiner?
DATA rips off his face to reveal the face of BRENT SPINER underneath. Brent Spiner, being the actor that played Data, looks pretty much just like Data, but his skin isn't yellow.
BRENT SPINER
ERROR – DOES NOT COMPUTE – GURU MEDITATION – END OF FILE – REMEMBER THE FAIL WHALE THAT WAS BACK WHEN TWITTER WASN'T A DUMPSTER FIRE
KEVIN
(Laughing) we have fun here.
Brent Spiner explodes. Fade to black.